TGI India Health Innovation Fellowship
Calling disruptive innovators with transformative ideas, solutions and products that aim to strengthen health care in India and globally.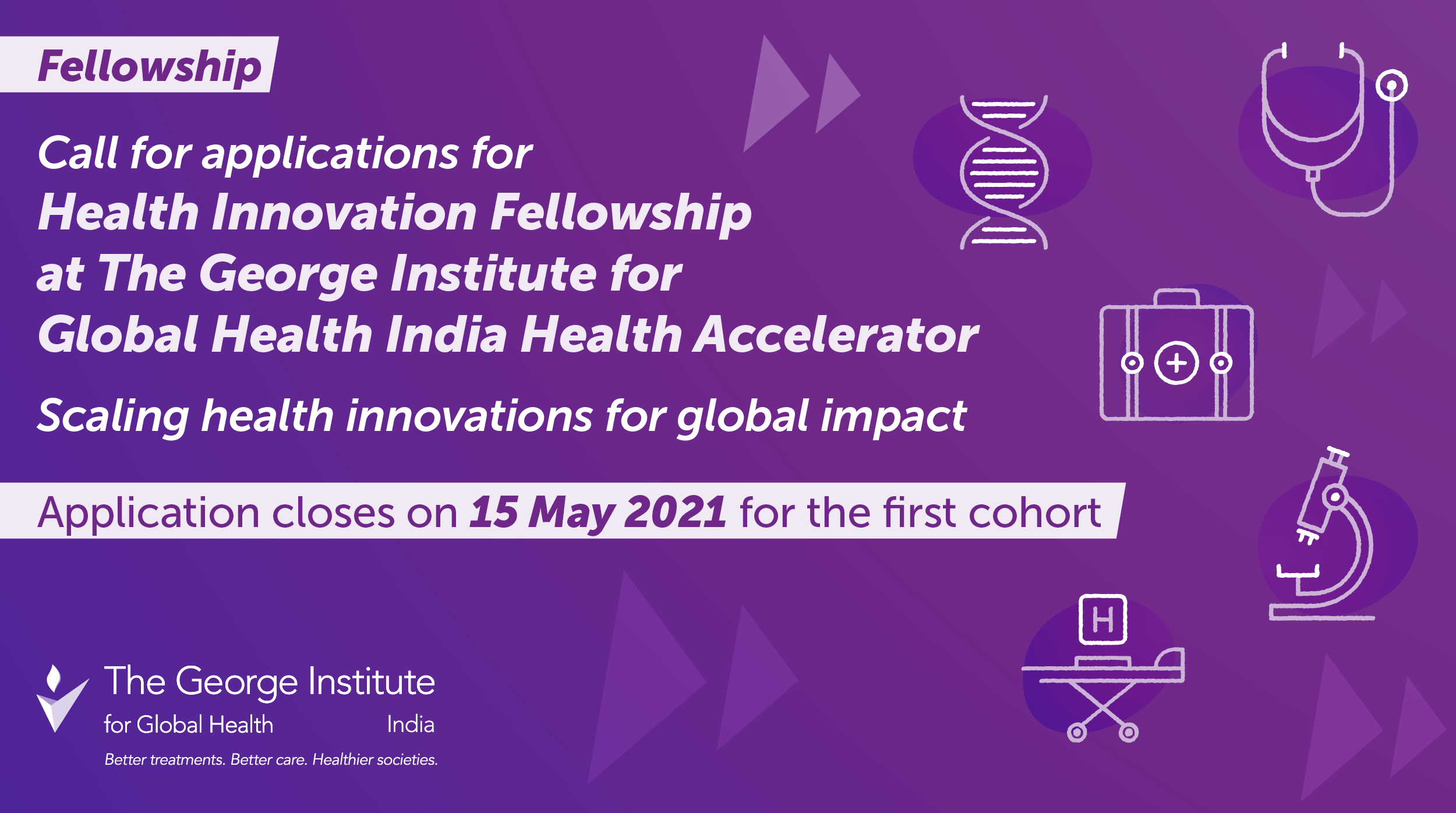 Ideas to Impact:
In a world grappling with a pandemic that has disrupted the normal and is continuing to challenging the status quo, health innovations have emerged as the critical pillar of a country's ability to respond in a timely and effective manner to save lives and protect the vulnerable. The last one year has witnessed exponential growth of social enterprises whose innovations have been the lifeline for millions of people around the world. Innovative diagnostics, novel therapeutics, essential medical supplies, vaccines and virtual care delivery models have been possible due to the rapid scale up of innovations.  However, the pandemic is just one threat --drug-resistant diseases, antibiotic resistance, inequities in health services delivery and growing burden of diseases are threatening the very foundations of our health systems. The burden of Non-Communicable Diseases (NCDs) and multiple morbidities continue to emerge as global health threats.
To tackle these challenges, there is an urgent need to identify potential health innovations and scale them within the health care delivery ecosystem to improve outcomes. Many promising innovations struggle to make an impact or scale as they are not clinically nurtured in their formative stages. In order to nurture and promote such innovations, there is a need to create appropriate clinical environment to enhance their offerings and support the clinical validation and regulatory pathways.
We, at TGI, have created one such space through our TGI India Health Accelerator.
What is the TGI India Health Accelerator?
TGI India Health Accelerator aims to create an environment where Ideas will translate to action. The innovators will be mentored by leading clinical, regulatory and health systems experts, industry mentors, and investors. They will also benefit from interaction with a group of brilliant in-house innovators.
TGI India Health Accelerator will provide embedding within the health delivery ecosystem that will be useful to innovators in their scale up journey.
What is TGI India Fellowship?
TGI India Health Innovation Fellowship is a program that will provide a learning environment and offer practical insights through the journey of converting an innovative idea into a working solution and support in clinical validation and rigorous evaluation to support a market ready product and offer opportunities for scale up and investments.
The program structure is designed to provide an enabling environment to the innovators to help them refine their solutions, design validation studies and clinical trials to support the regulatory requirements and thereby building the product / solution for scale. Our panel of mentors will provide targeted feedback through this structured programme.
Salient features of the program
Regular access to clinicians and innovation experts at TGI India and its network partners
Overview of the health policy and regulatory landscape
Clinical validation and clinical trials as per regulatory requirements
Opportunities for exposure to healthcare delivery settings through the course of the acceleration
Impact Investments and strategic funding opportunities
Key Learning Outcomes
Gain an understanding of the pain points of healthcare space and innovators
Acquire knowledge of the Indian healthcare landscape and its unique challenges
Gain an understanding clinical validation process and health technologies assessment process in India
Grasp the nuances of health policy and how it shapes innovation scale up
Develop a Go To Market Strategy (GTM) and identify Product-Market Fit
Learn the art of attracting investments through effective pitching
Who Can Apply?
The program is targeted at anyone who believes in the power of innovation to disrupt the status quo. The fellowship is open to
Individual Innovators with a promising idea or prototype solution
Startups in Digital Health, Med Tech, and Tech enabled health service delivery spaces
We believe ideas can come from anywhere. All they need is a nurturing environment and the right guidance.
Timeline
Application Deadline: The outer limit is 15th May 2021, however we will be onboarding promising innovators on a first come first serve basis.
The selected Innovators will be informed latest by 30th May 2021.
Mentors
Dr Oommen John
Oommen John is Senior Research Fellow at The George Institute. He completed his undergraduate and post graduate training in Internal Medicine at the Christian Medical College, Ludhiana, India. He has also undertaken executive business management training from the Indian Institute of Management, Calcutta. Oommen has worked with the World Health Organization (WHO), Geneva and SEARO on the Measles Aerosol Vaccine Development and contributed to the drafting of the strategic framework for strengthening Immunization coverage in WHO South East Asia Region. He has clinical experience as an Internal Medicine Physician in India and Nepal. His research interests include clinical decision support for improving clinical outcomes, health informatics and analytics, strengthening health systems through disruptive innovation. He is a member of the Indian Association for Medical Informatics and International Society for Vaccines; he contributes to a number of government, non-government and research advisory committees.
Abhinav Devaria - Consultant, Digital Health & Innovations
​​​Abhinav works as a Digital Health and Innovation Consultant at the George Institute of Global Health. Abhinav is a graduate of the Vellore Institute of Technology and is an MPP candidate at London School of Economics.He has worked as part of the Strategy team at NephroPlus, India's largest chain of dialysis centres to guide funding and expansion initiatives of the company.  Abhinav also had opportunity to closely observe various health systems from around the world while working at ZS Associates, a leading healthcare consulting firm. An avid policy enthusiast, Abhinav is closely following the developments in health policy space under different regimes around the world and is excited about the potential of digital health to revolutionize health care delivery.
Prof. S N Sarbadhikari - Consultant, Digital Health
Prof. S N Sarbadhikari is a pioneer in creating awareness for health informatics in India, with training as a medical doctor (University of Calcutta) and PhD in Biomedical Engineering from IIT, BHU, Varanasi. He is an Expert member in the Roster for Digital Health, WHO; an Independent Consultant for Digital Health. He is a Founder Member of HL7 FHIR Foundation and was an Expert Adviser for the ELAG (e-Learning Advisory Group) of SNOMED-CT. Professor is a member of the Board of Governors, Commonwealth University College of Medicine, Saint Lucia. He is IMA Honorary Professor; Distinguished Fellow, HITLAB; Faculty and Fellow of PSG FAIMER Regional Institute.  Formerly, he was Dean (Academics and Student Affairs) and Professor (Health Informatics) at IIHMR, Delhi. Earlier, he was the first Project Director, Centre for Health Informatics. National Health Portal (NHP) under the Ministry of Health and Family Welfare, Government of India.
Varun Jhaveri - Consultant, Health Accelerator
Varun Jhaveri was deputed by the Asian Development Bank as an Officer on Special Duty at the National Health Authority (NHA), Government of India. For NHA, Varun led the healthcare innovation strategy, health infrastructure strengthening through PM-JAY financing and provided overall policy and strategy support to the CEO and organization. Varun headed the NHA Innovation Unit which launched the NHA Market Access Programme supporting disruptive healthcare startups across the country. In 2019, he was recognized as one of the SDG Goalkeepers by the Bill and Melinda Gates Foundation. Earlier in 2018, he was recognized invited by the UNLEASH network as an UNLEASH Changemaker Fellow. In 2017, he was a part of the Indian Government Youth Delegation to Russia wherein he led the discussions on digital transformation. He has extensive experience in policy strategizing, designing large scale implementation programmes, leading multi-sectorial stakeholder coalitions, implementing moon-shot projects and supervising multi-disciplinary teams. He is currently working as a consultant, India Health Accelerator at the George Institute of Global Health India.
Vanita Singh - Consultant, Digital Health Policy
Vanita is currently working as a Consultant, Digital Health Policy, at the George Institute of Global Health. She is physiotherapist with master's in public health from TISS, Mumbai and PhD in Public Policy from IIM, Ahmedabad. Her research interests include health systems and policy analysis, role of technology in delivering healthcare, PPPs in healthcare delivery, quasi-experimental methods in policy analysis, publicly funded health insurance schemes & universal health coverage, and women's health issues