Marking World Food Day: Grow, Nourish, Sustain, Together
On the eve of World Food Day, an international event marked each year on 16 October since the founding of the Food and Agriculture Organization of the United Nations, read on to find a round-up of expert comment, researcher profiles, and a major talk from The George Institute for Global Health in line with the theme to 'Grow, Nourish, Sustain, Together'.
EVENT
Join us tomorrow for the next #GeorgeTalks titled 'Sensible Policy: Time to #FixFood' (register here). During this virtual event, renowned American cardiologist, Dr Dariush Mozaffarian, will discuss how our dietary habits are the primary cause of poor health, and the steps we can take to fix food and implement sensible policy, even in the context of a global pandemic. The event will also be recorded – we will share this on Twitter and YouTube shortly afterwards so keep an eye out!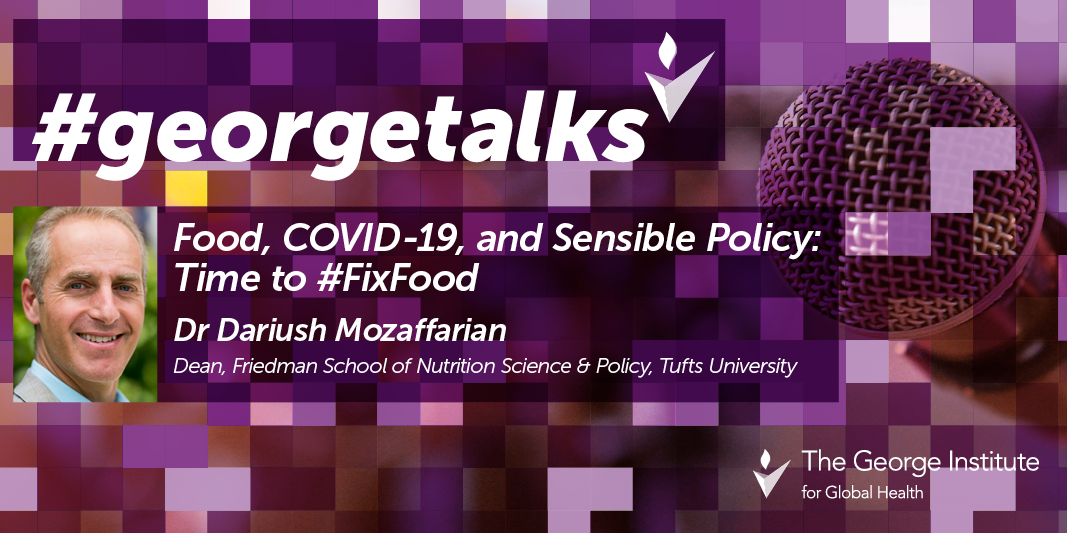 MUST-READ
To celebrate World Food Day, we asked some of our food policy researchers to tell us about their work and outline how it will help millions of people to improve their diets and the way they think about food. With introductory statements such as: 'law is a powerful tool to improve population diet' (Dr Alexandra Jones) and 'not all food environments are created equal' (Professor Jacqui Webster), this profile piece offers some insight into the breadth of food-related research and policy conducted across the Institute. You can explore the work of our food policy team in more detail here and our Healthier Societies programme here.
THOUGHT LEADERSHIP
'To solve problems we must connect systems'. This is the title of a blog from The George Institute's Distinguished Fellow and Director of the Centre for Food Policy at City University of London, Professor Corinna Hawkes. In her commentary, Professor Hawkes highlights how the COVID-19 pandemic has stimulated calls for a 'global reset' to respond to – and prepare for future – crises and suggests five steps that can help us realise this. Read it here.
So this World Food Day, please do engage and share – together we can make a difference.